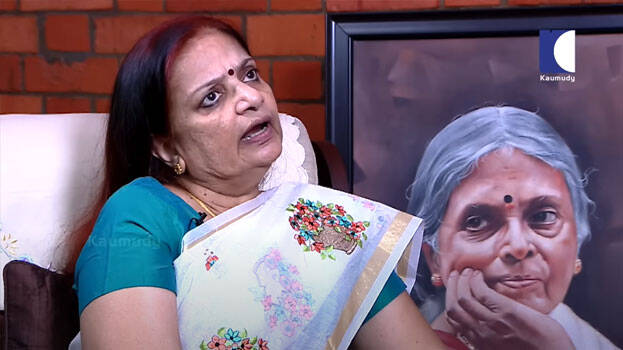 The sale of poet Sugathakumari's house 'Varada' became controversial recently. Sugathakumari's daughter Lakshmi Devi responded that the house had been lying in a bad state after the poet's death and she had every right to sell the house. "People who came to buy the house had other motives. But I sold the house to those who made a promise.", said Lakshmi Devi.
"The people who bought the house are two ordinary government employees. Many people approached me to buy the house, but all of them wanted to demolish 'Varada' and built a new house. I didn't agree with that. I sold the house to the new owners as they promised me they won't destroy the house or the plants. I believe that because I have seen the house where they used to stay earlier. It has many plants and the girl who bought the house loves trees. She said that they are lucky to buy the house of Sugathakumari.", she stated."
"The path to enter 'Varada' was in front of Sugathakumari's sister's house. After the poet's death, that road was closed by the heirs of the other property. 'Varada' was sold to those who assured that the house would not be destroyed and that the trees would not be cut.", clarified Lakshmi Devi through her note.
Lakshmi Devi mentioned that after the sale of 'Varada', she faced several threats. She added that if the house itself wants to be turned into a memorial, then the house called 'Abhaya', built by grandfather Bodheswaran and grandmother Karthyayani, is a better option.
"There is no way for a car or any other vehicle to reach the house. I decided to sell the house as I was convinced that life will not move forward by staying in that house. I have kept my mother's book, clothes and bed. I am willing to hand over them, to the Department of Cultural Affairs if an appropriate memorial comes up.", she said. Lakshmi also said that her father and mother didn't believe in material possessions.