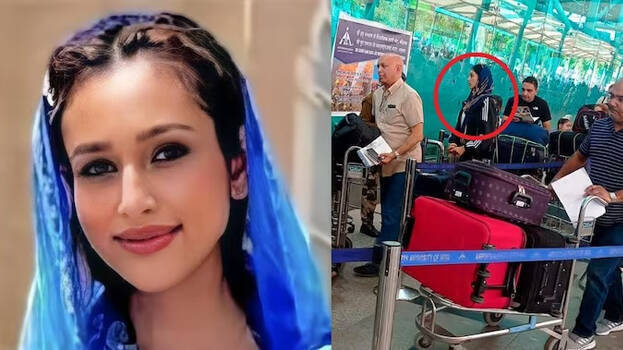 AMRITSAR: Khalistani leader Amritpal Singh's wife Kirandeep Kaur was detained by the police while trying to flee to London. Kirandeep was taken into custody at the Amritsar airport while she was about to leave for London on a 1.30 pm flight today. It is reported that the woman is being interrogated in detail.
She was initially detained by the Immigration Department at the Sri Gururam Dass International Airport in Amritsar. Later, the police arrived and took her for questioning. Kirandeep Kaur has British citizenship and the police informed that there are no cases against her abroad or in the country. No FIR has been registered against her by Punjab Police or central agencies.
At the same time, family members or relatives of the absconding accused can be detained and interrogated. Kirandeep Kaur was taken into custody and being questioned on this basis. UK resident Kirandeep Kaur and Amritpal Singh got married in February this year. It is reported that the Kaur came to Punjab after her marriage.
Meanwhile, the search for Amritpal Singh, who has been absconding for almost a month, is still on. The police posted notices at railway stations, including Amritsar, informing that those who help to find Amritpal will be given suitable reward. The investigation team is arresting those suspected of helping Amritpal. The police arrested brothers Hardeep Singh and Kuldeep Singh who helped Amritpal to stay in Punjab. Amritpal Singh goes into hiding on March 18. A search was recently conducted at the house in Hoshiarpur where he is suspected to have stayed on March 28 and 29.