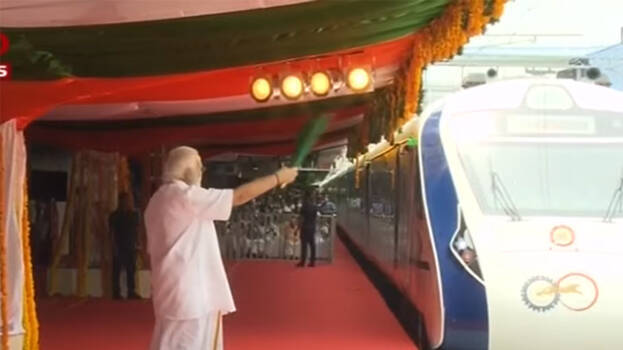 THIRUVANANTHAPURAM: Prime Minister Narendra Modi flagged off Kerala's Vande Bharat Express. The Prime Minister interacted with 42 selected students in C 2 coach of the train halted at Platform No 1 of Thampanoor Railway Station. The Prime Minister flagged off the train after interacting with the students. Chief Minister Pinarayi Vijayan also accompanied Modi in the train.
Modi also spoke to the loco pilots. Prime Minister is not travelling in the train. Religious, socio-political leaders and celebrities are participating in the first journey. 1000 students will take free journey from various stations. The Prime Minister was given a grand welcome at Thampanoor Railway Station under the leadership of the Chief Minister.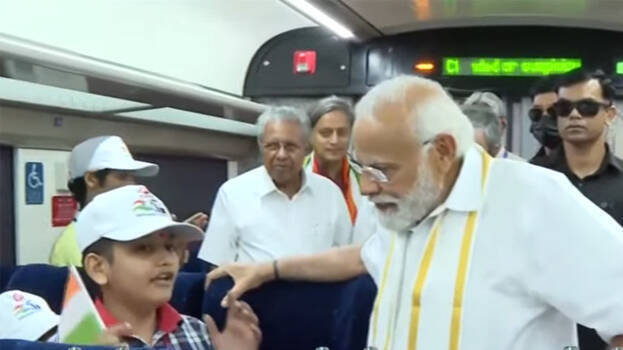 The Prime Minister will soon reach the Central Stadium. The Kochi Water Metro and the fully electrified Dindigul-Palani-Palakkad section railway will be dedicated to the nation. The foundation stone for Digital University's Digital Science Park, development of Thiruvananthapuram rail sector centered around Kochuveli, Thiruvananthapuram and Nemam railway stations, project to upgrade Thiruvananthapuram Central, Varkala Sivagiri and Kozhikode railway stations to international standards, and project to increase the speed of trains in Thiruvananthapuram-Shornur section to 110 kmph will also be laid. The Prime Minister will leave for Dadranagar Haveli in Union Territory at 12.40 pm.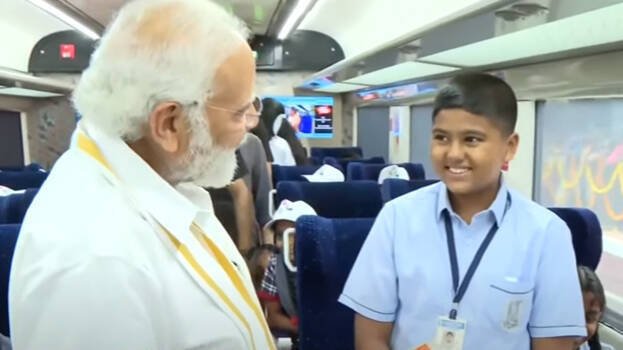 The Prime Minister reached Thiruvananthapuram at 10.15 am. Modi was received at the airport by Governor Arif Mohammad Khan, Chief Minister Pinarayi Vijayan, Union Railway Minister Ashwini Vaishnaw, Mayor Arya Rajendran, Shashi Tharoor MP, Minister Antony Raju and Chief Secretary V P Joy.
Meantime, a tight security has been put in place for the prime minister in the capital city in the wake of suicide bomber threats and leaks of intelligence's security scheme. The security plan was prepared jointly by the Special Protection Force (SPG) and the Central Intelligence Bureau (IB). Arrangements are under the direction of SPG IG Suresh Raj Purohit. Under the leadership of City Police Commissioner C H Nagaraju, more than two thousand cops have been deployed for security. Top IB officials are also in the capital city.