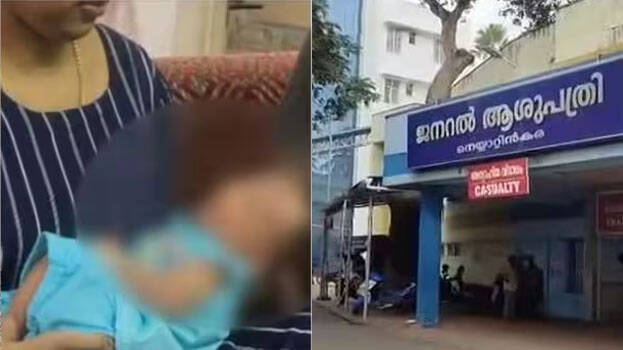 THIRUVANANTHAPURAM: A family accused the doctors in Neyyanttinkara general hospital of errors and negligence while conducting pregnancy. According to the family version, the newborn has fractures in hand bones and has lost sensation in the hands.
The incident happened on March 27 when Avanakuzhi native Kavya was admitted to Neyyanttinkara general hospital after experiencing serious labor pain. She was operated on by doctors minding her health status. Meanwhile, the family says the newborn's vein got extended due to negligence by doctors. The doctors back then assured complete return back to full health in a matter of weeks. However, the family took the newborn to another hospital and found out about the negligence committed by the doctors and nurses in Neyyattinkara. The SIT doctors say the medical staff in Neyyanttinkara might have dragged forcibly the newborn out from the mother during the operation which resulted in the fracture. Kavya said there were no senior doctors to attend her but only junior doctors and nurses.
The family has approached the government but the hospital officials are still shying a response into the matter. Meanwhile, Minister Veena George has assured an investigation into the issue.