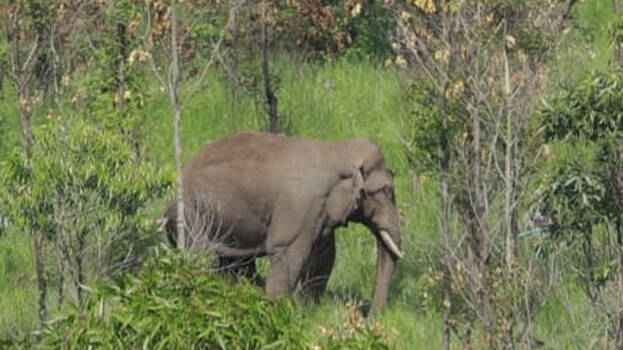 IDUKKI: Reports said the rogue tusker Arikomban is continuing in the forest area of Kerala-Tamil Nadu border. The forest department is getting signals from the forest areas of Kerala and Tamil Nadu. The forest department said the tusker is seen travelling in man places. The team entrusted to observe had seen the elephant in the hilly ranges of Mangaladevi. The tusker which traveled up to Vattathotti area of Tamil Nadu Forest, returned to the forest area of Medakanam area. More forest guards have been deployed in this area due to the Mangaladevi festival. No signals from the radio collar since Tuesday morning had worried the forest department officials. However, by yesterday morning, started receiving the signals.
Meanwhile, there is a concern on whether Arikomban will return to Chinnakanal again. However, the forest department officials have hinted that there is no need to fear in this regard. The authorities said the elephant's movement can be known through the radio collar fitted and thus can be prevented from returning. The officials of the forest department of Tamil Nadu are also closely observing the movements of Arikomban. If entered the populated areas of Tamil Nadu, it will be driven to Kerala. In that case, there is a high possibility that Arikomban will return to Chinnakanal itself.
The high court had yesterday directed that Arikomban, who travels a long distance, should be prevented from returning to the Chinnakanal. The forest department submitted a report on the pleas filed by People for Animals in Thiruvananthapuram against the capture of Arikomban and its translocation to the elephant enclosure. The report of the high range circle chief conservator of the forest department said the right eye of Arikomban is partially blind. This is in the report submitted clarifying the steps taken to capture Arikomban from Chinnakanal and translocating it to Periyar Tiger Sanctuary.
The tusker had a two-day old injury on the lower front portion of the trunk when captured. It may have injured while the tusker was being captured. It was released to the forest after treating it. It was released into the inner forest, 18 km from Kokkara Gate in Periyar Tiger Sanctuary. Arikomban woke up from his slumber at 5.10 am on May 30. At 5.15 am, sped off to the inner forest. The forest department also explained that they are monitoring the tusker with the help of radio collar.