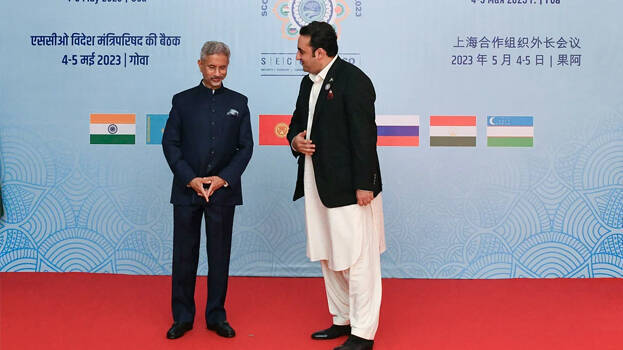 PANAJI: External Affairs Minister S Jaishankar on Friday received Pakistan Foreign Minister Bilawal Bhutto Zardari who reached Goa to attend a conclave of the Shanghai Cooperation Organisation. Jaishankar is presiding over the conclave. The video of Jaishankar receiving Bilawal Bhutto with a 'Namastey' has come out. The visuals of the two posing for pictures and Jaishankar leading Bilawal Bhutto to the venue have led to discussions on social media.
With Bilawal Bhutto in the audience, Jaishankar said that cross-border terrorism is seriously affecting national security and that it must be stopped. "Even when the world is fighting against Covid, the threat of terrorism has not subsided. The channel of financing for terrorist activities must be eliminated. The aim of the Shanghai Cooperation Organisation is to fight against terrorism," Jaishankar said.
This is the first time a Pakistan Foreign Minister is visiting India since 2011.