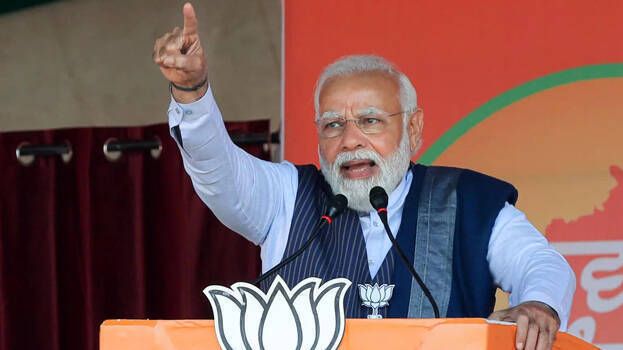 BALLARI: Prime Minister Narendra Modi said that Kerala is very beautiful with hardworking and talented people and that 'The Kerala Story' brought out the terrorist conspiracy taking place in the society there. He spoke supporting 'The Kerala Story' while addressing an election campaign rally in Bellary, Karnataka.
'Kerala Story' exposes the terrorist conspiracy taking place in beautiful Kerala. Congress is standing with this terrorist trend which is destroying societies. They are trying to ban movies and support terrorist organizations. They know only how to ban everything and prevent development. Even calling Jai Jai Bajrang Bali is a problem for them. Congress is supporting terrorism for vote bank,' Modi said.
'Now terrorism has taken a new form. Instead of using lethal weapons, there is a movement to destroy society from within and without. This move is what the movie brings out. Congress never tried to save the country from terrorism. They had bowed down to terrorist organizations when they were in power. Can the same Congress save Karnataka? In the atmosphere of terror, the industry, IT, agriculture, and great culture here will collapse', Modi said.
The Karnataka assembly election is on the 10th of this month and the votes will be counted on the 13th. Survey results show that Congress will take power. In-fighting and the defection of leaders are causing problems for the BJP, but the BJP and Modi are campaigning hard not to lose the only state they hold in South India. In two days, the Prime Minister will address seventeen assembly constituencies in Bengaluru alone. Along with this, there will be a roadshow as well.