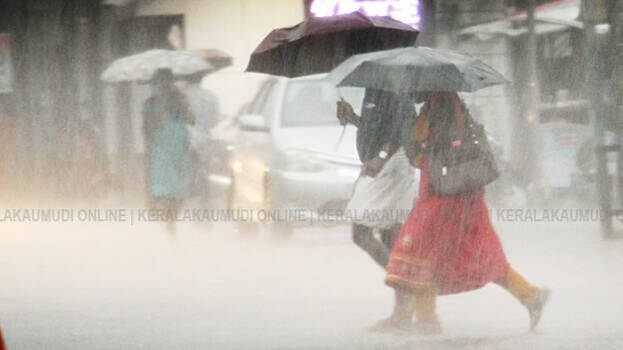 THIRUVANANTHAPURAM: The Central Meteorological Department has said that monsoon may arrive in the state on June 4th this time. Monsoon will arrive four days later than usual. Monsoon usually starts on June 1 in Kerala. However in the last five years, the monsoon started on June 1 only once. In 2018 and 2022, the monsoons arrived early, and in 2019 and 2021 it was late.
At the same time, the Central Meteorological Department has also informed that rain with thunder and lightning is possible at isolated places in Kerala till May 20.
Thunderstorm Warnings
Thunderstorms are dangerous. They cause great damage to human and animal life, electrical and communication networks and appliances connected to electrical conductors. Therefore, the general public should take the following precautions from the time the cloud starts to be seen. Do not avoid taking such precautions because lightning is not visible.
– At the first sign of lightning, immediately move inside a safe building. Staying in open areas increases the chance of being struck by lightning.
– Keep windows and doors closed and stay away from doors and windows during periods of strong winds and thunderstorms. Stay inside the building and try not to touch the wall or floor as much as possible.
– Unplug household appliances. Avoid proximity to electrical appliances during thunderstorms.
- Avoid using the telephone during thunderstorms. It is okay to use a mobile phone.
– Children should avoid playing outdoors and on terraces if the weather is cloudy. - Do not stand under trees during thunderstorms. Do not park vehicles under trees.
– Stay inside the vehicle during thunderstorms. Don't stick your legs out. You will be safe inside the vehicle. Avoid traveling on vehicles like bicycles, bikes, tractors during thunderstorms and seek shelter in a safe building until the thunderstorm ends.
- Do not go to the terrace or yard to take clothes when there is a rainstorm or during a thunderstorm.
– Tie down objects that can fall over in the wind.
– Avoid bathing during thunderstorms. Also avoid collecting water from taps. Electricity from lightning may travel through pipes.
- Do not fish or bathe in water bodies during thunderstorms. As soon as you start seeing clouds, you should stop fishing and boating and try to reach the nearest shore immediately. Do not stand on the deck of a boat during a thunderstorm. Baiting and netting should be suspended during thunderstorms.
– Avoid kite flying.
– It is dangerous to sit on a terrace or other high places or on a tree branch during a thunderstorm.
– Domestic animals should not be tethered in the open during this time. Do not go when there is a rain cloud to untie them and tie them back securely. This may cause you to experience lightning strikes.
- If you are in an open area where you cannot move to a nearby building, sit in a ball-like position with your feet together and your head between your knees.
- Lightning conductors can be placed on top of buildings to protect them from lightning. A surge protector can be fitted for the safety of electrical appliances.
- Lightning strikes can cause burns, loss of vision, hearing, or heart attacks. It should be understood that there is no electric current in the body of a person who has been struck by lightning. So don't hesitate to give first aid to a person who has been struck by lightning. The first 30 seconds of being struck by lightning are the golden moments to save lives. Get medical help immediately to the person who has been struck by lightning.
Special message for differently abled friends – https://www.youtube.com/watch?v=So1uMkDyzd4
Visual media are requested to display this message in sign language
'Damini' mobile application prepared by the Central Meteorological Department can be used to understand the possibility of thunderstorms. Damini app can be downloaded and used from the link https://play.google.com/store/apps/details..
Radio and video media are requested to specifically mention the lightning safety message in the following days.