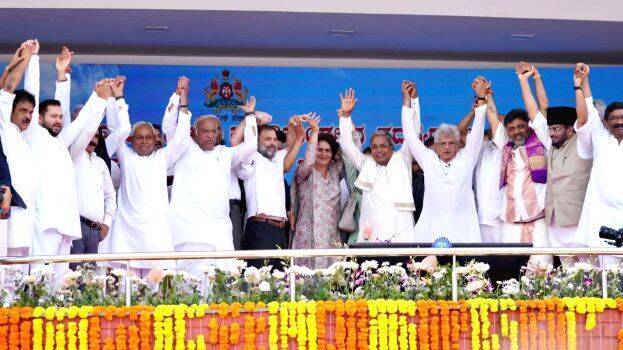 BENGALURU: In the first cabinet meeting, orders were issued to implement five promises that became crucial for Congress to regain power in Karnataka. Schemes including free bus travel for women were implemented. Chief Minister Siddaramaiah said that there will be a total liability of Rs 50,000 crore.
United Opposition
The swearing-in ceremony held at the Sree Kanteerava Stadium could be described as a united front of the anti-BJP opposition. Party national president Mallikarjun Kharge, Rahul Gandhi, Priyanka Gandhi, Congress chief ministers Sukhwinder Singh Sukhu of Himachal Pradesh, Ashok Gehlot of Rajasthan and Bhupesh Baghel of Chhattisgarh were present. Apart from them, Tamil Nadu Chief Minister and DMK leader M.K. Stalin, Bihar Chief Minister and JDU leader Nitish Kumar, Deputy Chief Minister and RJD leader Tejashwi Yadav, JMM leader and Jharkhand Chief Minister Hemant Soren, CPM General Secretary Sitaram Yechury, CPI General Secretary D. Raja, NCP leader Sharad Pawar, former Jammu and Kashmir Chief Ministers Mehbooba Mufti (PDP), Farooq Abdullah (National Conference), NK Premachandran (RSP), Abdulsamad Samadani (Muslim League), Dipankur Bhattacharya (CPI-ML), Jayant Singh (RLD), Kakoli Ghosh Dastidar (Trinamool), Priyanka Chaturvedi, Anil Desai (Shiv Sena-Udhav) Makkal Needhi Maiam Leader and actor Kamal Haasan also participated.
5 promises
Griha Jyoti : 200 units of free electricity per month to every household.
Griha Lakshmi: Rs.2000 per month for female heads of household.
Uchita Prayana: Free bus travel for all women.
Yuva Nidhi: Rs 3,000 for unemployed graduates and Rs 1,500 for unemployed diplomas holders every month.
Anna Bhagya: Free 10 kg rice per person per month for below-poverty-line families.
Term system for ministers in Karnataka
NEW DELHI: It is hinted that the tenure system promised by Siddaramaiah - DK Sivakumar as chief minister to end the dispute will be applied to ministers and board and corporation chairmen as well. The ministers taking oath now will be vacated by January 2026 in a reshuffle with Shivakumar as chief minister. Boards and corporations will also change. The Congress believes that this will help to give representation to the aspirants and various sections in the Cabinet and to energize the work. Meanwhile, the party leadership has not made the term conditions public.
It is proposed to form a coordination committee to resolve differences between the Chief Minister and the Deputy Chief Minister and to ensure a smooth transfer of power after 30 months. AICC General Secretary Randeep Surjewala, who is in charge of High Command Karnataka, has been given this responsibility.
Siddaramaiah and Shivakumar had bargained to include their people in the cabinet formation talks in Delhi on Friday night. Then 10 people from both sides were selected and the rest were left to the decision of the party leadership. The initial understanding was that 25 ministers would take oath yesterday along with the Chief Minister and Deputy Chief Minister. Eight of them were selected on the basis of community and caste representation.