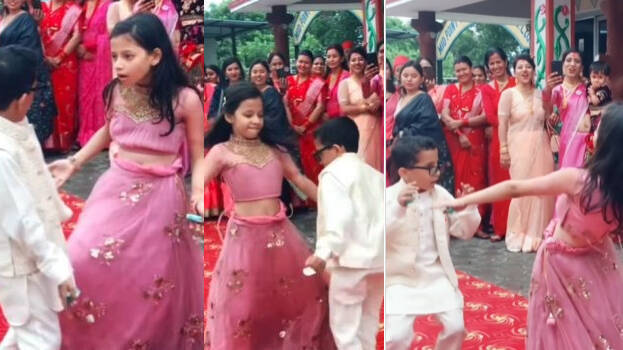 Kids cavorting to tunes on wedding days has turned into a staple form of entertainment. However, it takes some luck and talent to win many hearts with such zestful moves. It is now the turn of two Nepal kids who have taken the internet to bow before their rhythmic steps embracing cinematic expressions.
The women folks crowded to witness the dance steps are all smiles and coy over the kids doing mesmerizing moves that can even shame a professional dancer. It is normal for weddings to play high rhythmic tunes as part of the fete. The kids unsolicitedly took center stage and started with steps, not any replica of films but something which could have been imbibed from long devotion to dance.
The bespectacled boy is all high and competitive while the girl wearing Lehenga cares less about the well-stitched dress but has eyes only on the moves. At one point she gives a cold stare to the boy while in the groove, a hilarious watch to say the least. The girl also tries twerking which makes some saree-clad women put their hands on mouths in embarrassment.
Meanwhile, not many are happy with the dance. Comments are asking the girl to never emulate steps that are sleazy and inappropriate. Since being shared on May 11, the clip has amassed more than 13.1 million views and more than 12 lakh likes on the Meta-owned platform.