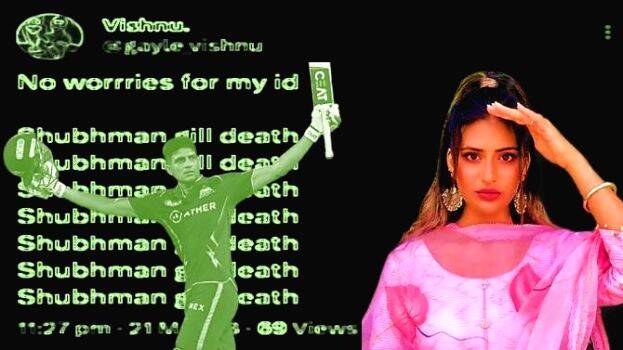 Virat Kohli's century against Gujarat Lions in yesterday's IPL match fell like a boon for a wobbly RCB team to pounce back on attack. The match was decisive and Kohli took the fight from the forefront almost assuring about a semi-final berth for the team. Unfortunately, the valiance from Shubman Gill was all it took to dash the hopes of the thousands crowded in Chinnaswamy stadium in Banglore. In a nail-biting finish, Gill knocked a 104 from just 52 balls and moreover ended the match with a six assuring a win for GI.
RCB fans were dismayed and irate at the same time. Gill after the finish, went for some heroic antics thumping his bat on the chest and later bowing in the old Victorian style which tested the true limits of many RCB diehards. Virat Kohli was captured on the big screen irked and later seen throwing away his cap in anger.
Cricketers getting trolled and abused after a loss or win are common in India. Gill was also in contention to receive all the hate and abuse from RCB fans after the win. However, the shock came not for Gill but to his naïve sister who was in no way responsible for RCB's loss.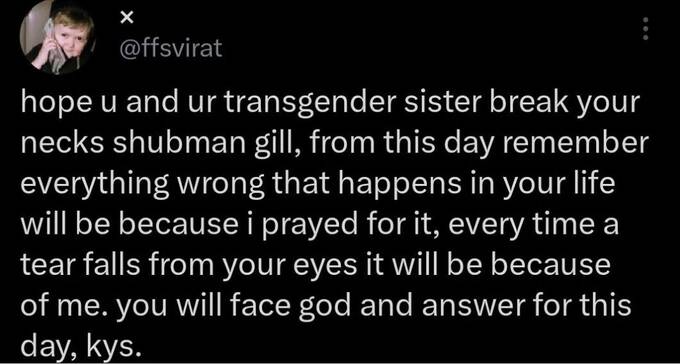 RCB people on Instagram went aiming at Shahneel Gill, sister of Shubman and started a cannon of filth on her. Some called her transgender while others prayed for the death of both the sister and brother. Not just this, but another thousand messages poured through her Instagram handle in no time.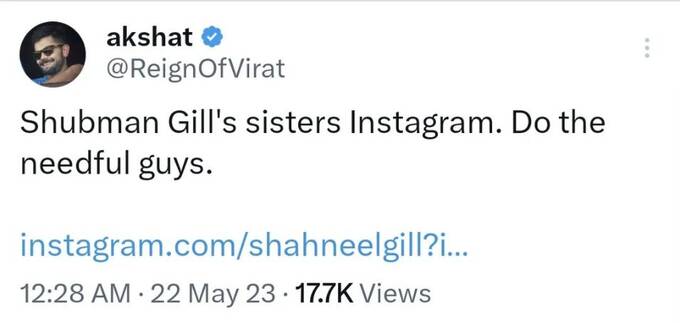 Meanwhile, Shahneel Gill never minding the army of trolls has again uploaded a picture of GI's win showing her durable mind to win battles.