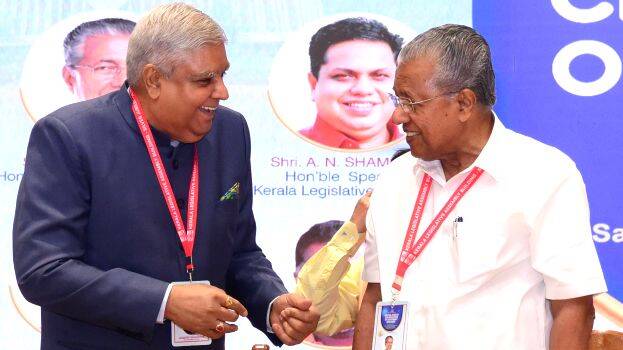 Opposition opinions should also be given importance
THIRUVANANTHAPURAM: Vice President Jagdeep Dhankhar said that in a democracy everything should not be viewed through a political lens. We have to rise beyond that by giving priority to the national interest. He was inaugurating the Silver Jubilee celebrations of the Kerala Assembly building.
Discussions and opinions are of great importance in a democracy. The views of the opposition should also be given importance. Discussions are what should take place in the shrine of democracy. Democracy flourishes when all thoughts and views are given due consideration. Intolerance of differing views cannot be justified.
The freedom of speech provided by the Constitution is enjoyed most in the legislatures. This privilege should be used for healthy debates. It should be used to maintain a vibrant democratic tradition. Do not misuse this freedom for destructive purposes. It would be dangerous if members of the legislative assembly did not do their jobs and deviated instead.
Members should take inspiration from the Constituent Assembly. Parliaments and Legislatures are not forums for the free presentation of unreliable information. People look up to legislative institutions with high expectations. I am sure that the members of the legislative assembly in Kerala will be guides for the legislatures of other states.
The conduct of those holding constitutional positions must maintain the highest standards of decency, decorum, and dignity. It should be taken seriously that noble discussions filled with humor, mockery, and brains are disappearing from legislatures these days.
Ours is a great democracy where unparalleled diversity merges into unity. Here politicians must maintain mutual trust and respect to serve the nation and advance democratic values. We should be proud of what we have achieved today, which we could not even dream of a few years ago.
This century is going to witness the rise of India as a global economic leader. In the list of the world's largest economies, India has moved from the 11th position to the 5th position. India will become the third country by the end of this decade.
The Vice President released the souvenir of the Legislative Assembly Book Festival by handing it over to the Chief Minister. He also inaugurated the renovation of the assembly premises. When the speaker was given the Aranmula mirror as a gift, he shared his curiosity by showing everyone's faces in it. Saplings were also planted on the assembly premises.
Governor Arif Muhammad Khan, Chief Minister Pinarayi Vijayan, Speaker A.N. Shamseer, Minister K Radhakrishnan, Leader of Opposition VD Satheesan and Deputy Speaker Chittayam Gopakumar spoke.
Don't make uproar a political weapon
Vice President said that the uproar during the debates in the legislatures should not be used as a political weapon. People are worried and pained by the increase in such trends. In a democracy, there will be disagreements and conflicts. These should be resolved through collaborative dialogue, not confrontational positions. There should be discussions that give importance to the national interest beyond partisan positions.