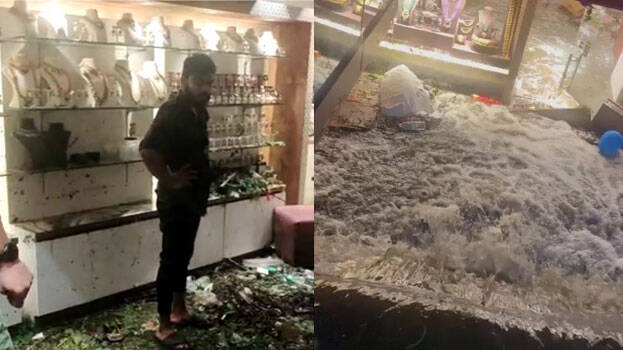 BENGALURU: It has been alleged that gold worth Rs 2 and a half crores and money was washed away from a jewellery store in the heavy rains that lashed Bengaluru city the other day. About 80 percent of the jewellery, money, and furniture were washed away from Nihan Jewellery at 9th Cross, Malleswaram. According to sources, the shutters of the shop were open when rainwater unexpectedly gushed into the jewellery store.
In no time, the store was filled with water and garbage, and the owner and the employees ran away from the store. The gushing water washed away the gold ornaments that were kept in the showcases. All the gold was lost as the back door of the showroom was opened by the force of the water.
A large amount of gold was collected in the jewellery store as part of its first anniversary celebrations. The owner alleged although she called the corporation officials for help, she did not receive any help. Recently the drains and gutters in the area were renovated. The owner of the jewellery also blamed the unscientific construction of gutters for such huge damage.