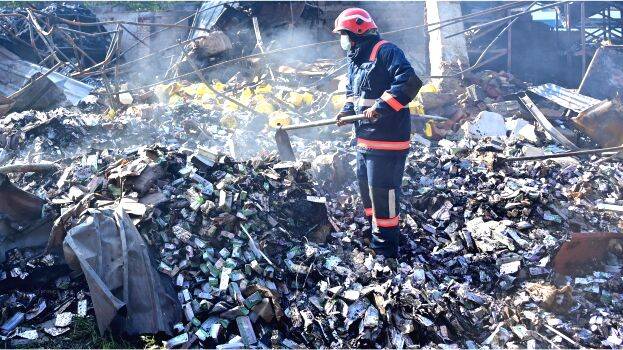 THIRUVANANTHAPURAM: Lokayukta is currently on the run, investigating deep into the carton of medicines bought at inexplicable rates during the COVID era. And now to another news; Two warehouses of the medical service corporation caught fire mysteriously in the last week. It was here that the crucial files of purchase during the Covid times were kept. The purchase was done for a whopping Rs 1127 crores. The fire happened while the investigation was ongoing, and it reeks of a vicious attempt.
The fire at Menamakulam Kinfra Park godown at yesterday morning 1:30 am even took fireman Renjith's life. The mystery of fire got submerged in the tearful adieu of Renjith but it was opposition leader V D Satheeshan who again ignited talks to concentrate on the corruption. " Paperworks of almost Rs 1032 crores worth purchase of medicines have been burnt in the fire mishap. This is a planned attempt from usual suspects"
Kazhakuttam assistant commissioner C S Hari has started an investigation into the issue. In Kollam Uliyakovil. a fire happened in the warehouse on Wednesday which burnt crores worth of medicines. It is also suspected that many expiry-date medicines were also in the pack.
The forensic has taken samples from the spot while ADGP B Sandhya confirmed that the warehouse functioned illegally even after failing approval from the fire force. Earlier the documents of the purchase were moved to computers in the corporation. However, the files were destroyed by a staff who was later suspended. The corporation office claims about retrieving the file of such purchase but the numbers still remain vague with no proper confirmation.
According to officials, the bleaching powders' reaction with water and the sanitizer presence nearby formed the fire in the warehouse. However, during earlier times also bleaching powders were kept open in the warehouse nearby Phenol. No such fire happned.