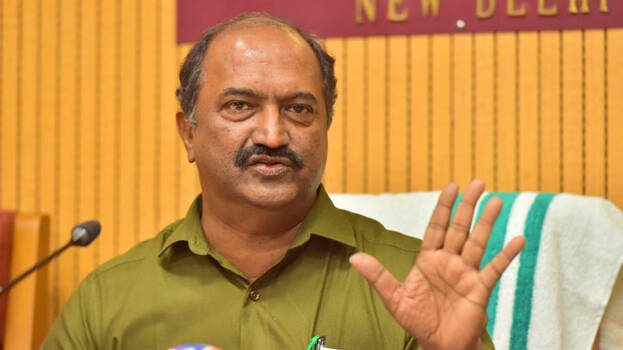 THIRUVANANTHAPURAM: Minister KN Balagopal took to Facebook to strongly protest against the Centre's decision to reduce Kerala's borrowing limit. In his Facebook post, Balagopal alleged that the Centre's approach has changed to suffocating the state at all costs. "Grants and loans to Kerala have been denied and cut for some time now. At the beginning of the financial year, the Centre had given permission to take a loan of Rs 32,442 crore in the current year. But now only Rs 15390 crore has been sanctioned. This is in addition to the reduction of Rs 10,000 crore in grants compared to last year", he said.
"This is a challenge against the people of Kerala. There is also a political motive behind this to obstruct the development and welfare activities of the state. All the people need to come together and raise their voice against this wrongdoing. This is the time when everyone should put aside political differences and protest together to protect the best interest of the state", he added.
The central government has cut Rs 7,610 crore from the state's borrowing limit. It is reported that with this there will be financial stress including daily expenses. According to the revised estimates, Kerala will get only Rs 15,390 crore in loans. As Rs 2,000 crore loan has already been taken for various purposes, the action of the central government is a big blow to Kerala.