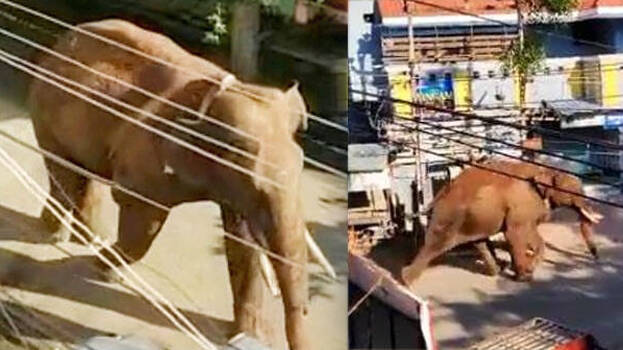 IDUKKI: Indications are that Arikompan, who is stationed in the residential area of ​​Cumbum, Tamil Nadu, will not be tranquilized today. The Tamil Nadu government had ordered the capture of Arikompan by tranquilization. The mission will be at tomorrow early morning. A high alert has been issued in the Cumbum region. As part of this, a curfew has been announced in the area.

The elephant ran away in fear after hearing gunshots to the sky and was found stationed near a coconut grove at Cumbum. Efforts are being made by the Tamil Nadu Forest Department and Police to keep Arikompan in a safe place until the mission can continue. Three Kumki Elephants from Anamala will be brought to capture Arikompan. After tranquilizing, Arikompan will be shifted to the Varushanad valley of Megamalai. Meghamala CCF is in charge of the mission. Dr. Kalaivanan and Dr. Prakash are leading the mission.
Meanwhile, Tamil Nadu Chief Minister MK Stalin intervened in the Arikompan issue. He suggested that Arikompan should be caught without troubling the people. He requested all the departments to cooperate for this. Elephant lovers also came forward to protest the action against Arikompan. They say that it is illegal to try to capture Arikomban as long as the High Court order remains and they will approach the Supreme Court against this.

Arikomban reached the Cumbum population area this morning. Five vehicles, including an autorickshaw, were vandalized. A man who ran away after seeing the elephant fell and got injured. There are other reports of some people getting injured while trying to scare away Arikomban