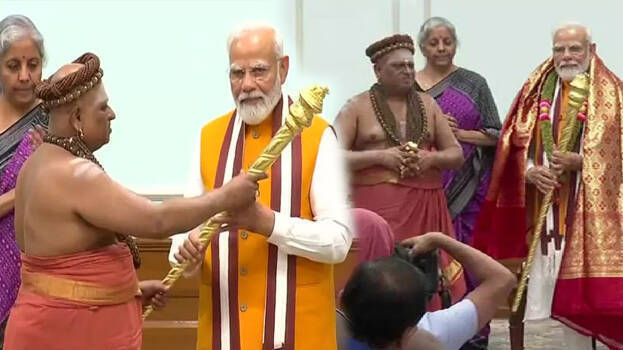 NEW DELHI: Ahead of the inauguration of the new Parliament building, Prime Minister Narendra Modi received the historic 'Sengol' from 'Adheenams'. Adheenams, a team of priests from Tamil Nadu handed over the golden scepter that Jawaharlal Nehru received from the British to symbolize the transfer of power from Britain to independent India. The meeting took place at the Prime Minister's office and he took the blessings from the priests. Prime Minister Narendra Modi will place the 'Sengol' scepter near the Speaker's seat as a reminder of India's sovereignty.
The scepter was kept at the National Museum in Allahabad, Nehru's residence. The scepter was made in Tamil Nadu at the behest of India's last Governor General Rajaji. British Viceroy Mountbatten asked Nehru how the transfer of power would be. Nehru sought advice from Rajagopalachari. Rajaji said that the practice of Chola kings in Tamil Nadu can be adopted by using Sengol as a symbol of power transfer from one king to another.
The scepter was made by Vummiti Bankaru Chetty, who was running a jeweler in Madras at that time, following the instructions of the Adheenams in Thiruvavaduthurai. The scepter made of silver and plated with gold has a carving of Nandi on top.