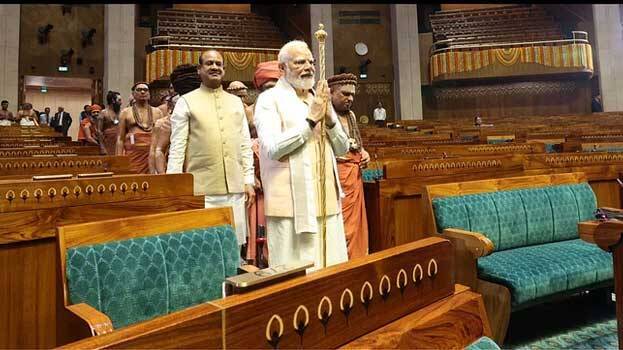 NEW DELHI: Prime Minister Narendra Modi said the new Parliament building is a gift to the people during Amrit Mahotsav. He said this while addressing the second phase of the inaugural function. The Prime Minister added that the new building will witness the sunrise of Atmanirbhar Bharat.
'Today is a memorable day in democracy. A dream come true for billions of people in India. A symbol of freedom fighters' dream come true. The new building is a blend of modernity and tradition. New India is moving towards a new goal. When India moves forward, the world moves forward. The world is watching India's journey with respect. The country is moving to greater heights.
The sacred Sengol was also installed in the new temple. The scepter itself is a symbol of transfer of power. The scepter will symbolize the proceedings of the Parliament. The glory of the scepter was also restored. The scepter will guide the country. The old building had many limitations. The new building is the pride of every Indian,' the Prime Minister said.
Meantime, President Droupadi Murmu said in a message that the inauguration of the new Parliament building is an important step in India's democratic journey. The President also described it as a day written in golden script in Indian history. Rajya Sabha Deputy Chairman Harivansh Narayan Singh read the President's message on the occasion. Vice President Jagdeep Dhankar in his message clarified the new age of democracy. Speaker Om Birla said that it is a glorious moment to witness.