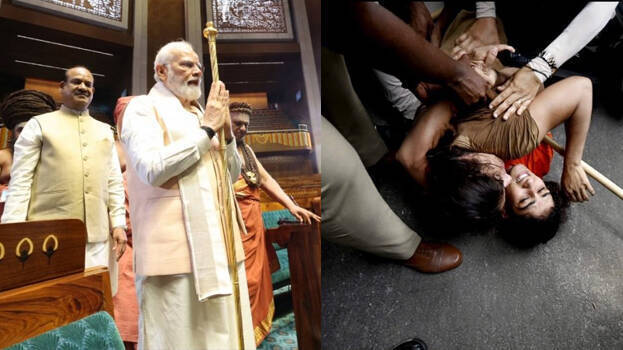 NEW DELHI: Congress leader Rahul Gandhi criticized the police action that suppressed the protest of the wrestlers during the inauguration ceremony of the new Parliament building. "Parliament is the voice of the people. The Prime Minister is suppressing the protesting voice of the wrestlers by using the police", Rahul Gandhi said in a tweet. In another tweet, Rahul shared a video of the clash between the wrestlers and said now that the "coronation" is over, the "arrogant king is crushing the voice of people" on the streets.
AICC General Secretary Priyanka Gandhi also criticized the police action against the wrestlers. "The medal worn by wrestlers is the pride of the country. The medal won by the sportspersons through hard work has brought glory to the country. The audacity of the BJP government has grown to such an extent that it tramples the voice of women stars without any compassion.The whole country is seeing this arrogance and injustice of the government.", Priyanka tweeted.
Wrestlers announced it will hold Mahila Samman Maha Panchayat in front of the new Parliament building which was inaugurated today. The police took action when the wrestlers who took a protest march here tried to cross the barricade set up by the police. The actors were dragged by the police and taken into custody. The wrestlers are demanding the removal of Wrestling Federation President Brij Bhushan Sharan Singh, who is facing a sexual assault complaint.