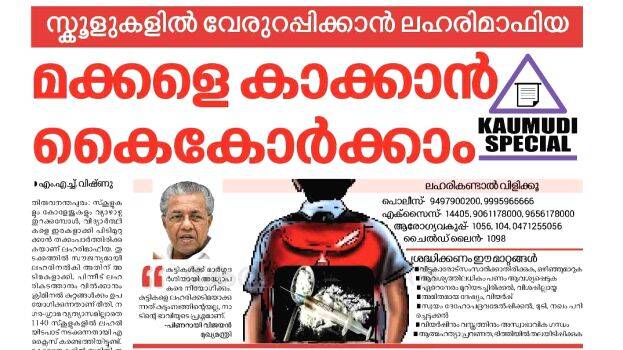 THIRUVANANTHAPURAM: A joint action plan of police and excise departments will be implemented to break the drug mafia active in schools. The anti-drug campaign will begin on June 1 itself and there will be continuous inspections as well. Watch committees will also be formed in all schools.
The public awareness committees will consist of teachers, parents, alumni, voluntary organizations, and political leaders. Shops selling drugs near schools will be closed. Student Police, NCC, NSS and Scouts will be used for anti-drug activities. Children will be made aware of the health problems caused by drug abuse.
It was earlier decided to form virtual police and excise units with the Principals as members following the High Court order. There will be squads to find drug dealers on campuses and hostels. Anti-narcotics clubs will be formed in unaided institutions as well. Starting student police in cadet colleges is also under consideration. De-addiction centers will come up in every taluk for people under 21 years of age.
Undercover investigation and portal
Undercover investigation on drug supply will be intensified.
Portal to provide information about drug sales on social media.
Training for Police and Excise to detect synthetic and pharmaceutical drugs.
To prevent drug flow
Cases will be toughened to prevent synthetic drugs from reaching schools. Sections 31 and 31A of the NDPS Act, coupled with the previous offenses of the accused, would warrant a higher sentence.
A data bank of drug traffickers will be prepared. Those who are repeatedly accused of drug trafficking will be put in preventive detention. Dog squads will be deployed to prevent smuggling through trains. Border checks will be increased.
Students who sought treatment in drug addiction treatment centers during one and a half years: 3933
People not freed from drug addiction, even after being hospitalized for a hundred days: 20%
Chief Minister's directive is to take drastic measures against the curse of drug addiction in schools
Dr. V Venu,
Home Secretary