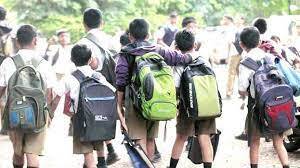 THIRUVANANTHAPURAM: Howling to soft sobs of new entrants into the academic turf will reverberate across every school on Thursday. Many others will amble to their classes in pure delight replete with thoughts about making new friends and moreover about using their new sweet-scented erasers.
The kids are returning back to school this Thursday after a long two months vacation. In these times of technological reign, the word vacation won't sit well as it is not difficult to connect with friends over video calls and Skype. Albeit this, nothing can compensate for a friendly hug from your best friend after the surprise awe of a meetup in school. Teachers are prepared to attract beginners with balloons, books, and colorful pens and stationeries.
Chief Minister Pinarayi Vijayan will be present in Malyinkeezhu VHSS to inaugurate the opening day of school. A cavalcade of ministers will also be present at the function. This time, the government has opted for gender-neutral uniforms which have eased the comfort of girls in school.