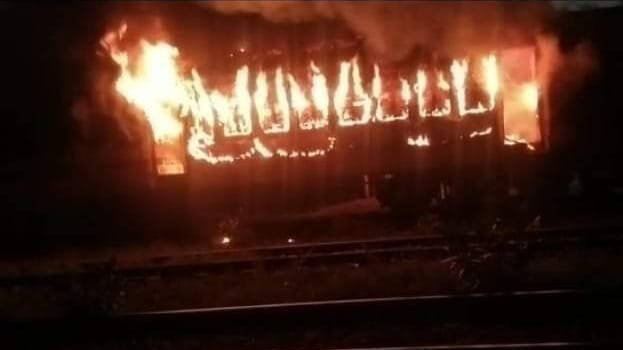 KANNUR: It is suspected that the fuel was poured into the bogie of the Alappuzha-Kannur Executive Express train to spread fire through the window pane of the coach. The window glass next to the toilet of the burnt bogie is broken. It is believed that fuel was poured into the coach through this. However, neither the police nor the railways have confirmed this. Eyewitnesses said the fire was first seen on the side of the bathroom and suddenly the bogie burst into flames.
Meanwhile, the police sealed the bogie that caught fire. The action is part of investigation. Though CCTV visuals of a man walking towards the bogie with a can in his hand have been obtained, it is not clear. This is confusing the police. The additional divisional railway manager said let the police prove everything. MLA Kadanapally Ramachandran, who visited the place, said the situation is appalling. He said the incident is suspicious.
Another fire broke out in the same train that Shahrukh Saifi set on fire at Elathur in Kozhikode, this morning. The fire broke out in the bogie of the Alappuzha–Kannur Executive Express train which was halted at the 8th yard near the 3rd platform of Kannur railway station. The incident happened Thursday early morning at 1.30 am. No one was injured. The train was halted after ending its journey at 11:30 pm.

The fire broke out in the very back third general coach. The bogie was completely gutted in fire. The nearby bogies were not damaged. Three units of the fire brigade brought the fire under control after a long effort. The fire brigade's vehicle could not reach the spot and this led to a crisis.