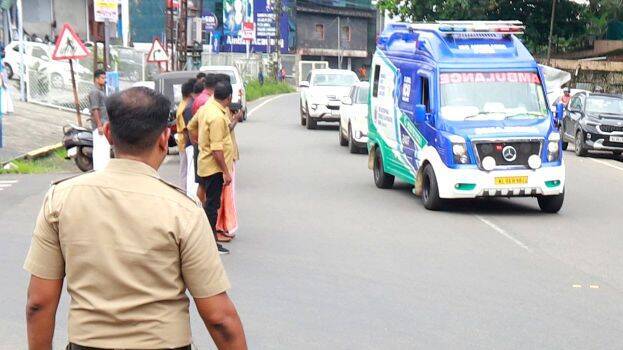 KATTAPPANA: On Thursday, the state came together to save 17-year-old Ann Maria Joy, who suffered a heart attack during mass in the church. The ambulance that carried Ann Maria reached Amrita Hospital in Kochi after covering 132 km from Kattappana in just 2:40 hours.
The funeral of Ann Maria's aunt took place on Tuesday. At around 6.30 am on Thursday, Ann Maria collapsed after getting up after kneeling and praying during the mass at Irattayar Church. She was then immediately taken to St. John's Hospital in Kattappana. The doctors there immediately referred her to the Amrita Hospital in Kochi.
Minister Roshy Augustine came to know about it while attending the Praveshanolsavam in Panikkankudi. He immediately contacted senior police officers and instructed them to ease the traffic from Kattappana to Ernakulam Hospital and make way for the ambulance. The minister shared the information through his Facebook page as well. Many people who saw the minister's Facebook post joined hands as volunteers.
About 20 organizations, social media groups, ambulance drivers' associations, political and social organizations etc came together to ease the traffic. Locals, traders and autorickshaw workers came out to help the police in controlling the traffic.
It generally takes three hours and 56 minutes for a vehicle to cover the distance from Kattappana to Kochi. However, the ambulance managed to cover the distance in just 2.40 hours, thanks to the intervention of the minister, officials and the public.