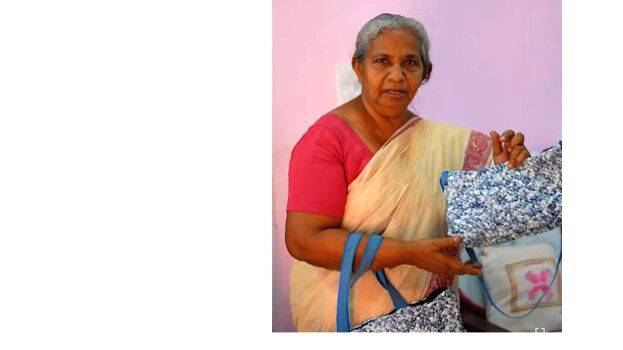 THRISSUR: Whether it is a wedding or a gathering or any fete, Adoor native Leelamma is happy only with a big bag hanging tight on her shoulders. All eyes will deceptively take a look into this bag, with a curious eye for the art. Leelamma often gets approached by many, even strangers to know about the secret bag. The reaction will be more noteworthy when she reveals the material used to build it. Not even in your wild guesses — Milma cover packets.
It was six years before, Leelamma started working wonders with Milma packets. Bags, clothes, almirahs, baskets, and hats turned products of her ingenious mind. Leelamma is a quick learner. While in the sixth standard, she acquired a knack for stitching. With the same fervor to learn more, Leelamma tried a hand at age 70 twirling Milma packets. It did wonders.
She first started collecting milma packets in huge amounts from nearby homes. Her expertise in embroidery and stitching pushed her to try newer ways of work. Cloth bags and purses were ready after days of hard work. It normally takes months for Leelamma to deftly complete one work.
The story of her creative genius even reached the ministerial quarters in Thiruvananthapuram. Minister Chinchurani felicitated Leelamma for her message to not waste plastics. Years back, Leelamma worked as a craft teacher in one private school in Adoor.