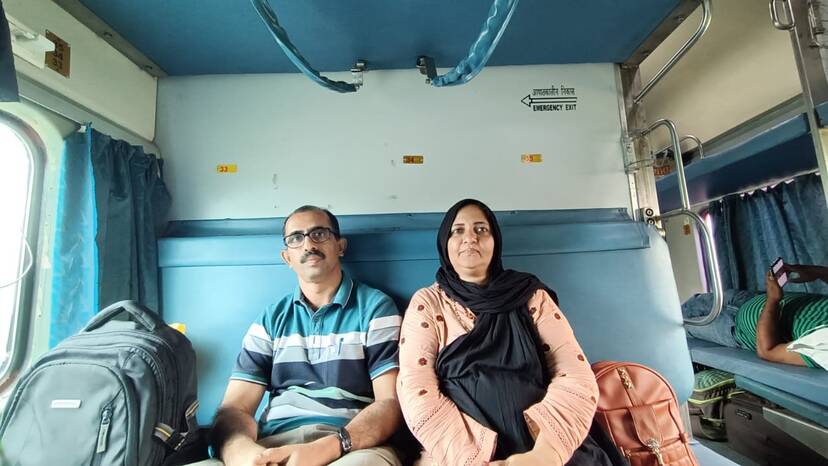 KANNUR: 'The train derailed due to the impact with a loud noise and was shaking and moving, but I did not understand what happened. The coach stopped after moving forward a little. The scene that I saw when I got out... It all seems like a bad dream now'- Payyannur municipal councilor TP Sameera, who was on the Shalimar-Chennai Coromandel Express that was involved in the accident, is still not out of the shock.
Sameera was coming to Chennai from Santragachi in Kolkata with her son Muhammad Sadad's for his work related needs. Her husband, Payyannur Kendriya Vidyalaya teacher VM Shamsuddin was also with them. They boarded the train at four in the morning and the accident happened in the evening. Sameera and her family were in the middle of the train in the D4 coach.
When I stepped out of the coach, the sight I saw was shocking. The bogies were tilted. The coaches in front had crashed into the goods train. There was the shouting and commotion of people. The passengers on the train were the ones who started the rescue operation. Soon the local residents and ambulances arrived.
The passengers were stuck in the bogies in such a way that they could not be taken out quickly. The dead bodies were scattered all over the place. Many bodies had no arms or legs.
Hearing the news of the accident, all the relatives and friends from back home were calling in fear. They were relieved when we informed them that we are safe. We were at the accident site until 11 o'clock yesterday morning. Reached Chennai national highway with the help of local residents. From there we returned to Bhubaneswar by car. After reaching Chennai today, we will return home.