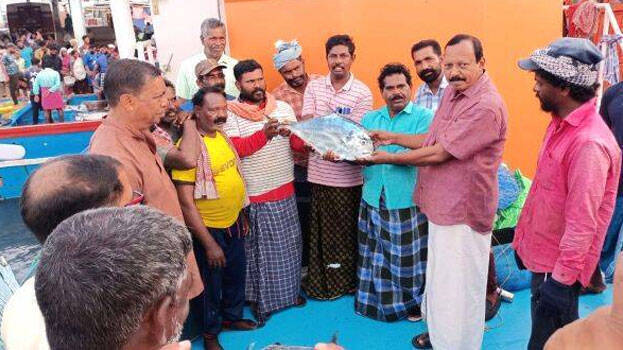 CHAVARA: St Anthony's boat turned a lucky charm for the fishermen tribes of Jonaka Puram in Kollam. It was on the 29th of May that the new boat embarked for the first time into the seawater. The boat was purchased from funds collected through the fishermen's welfare cooperative group. it was chief minister CM Pinarayi Vijayan who handed over the boat to them.
Due to turbulent weather, most of the fishermen who ventured for deep sea fishing came back in dismay, not getting their usual catch. However, St Anthony stunned the shores of Jonakapuram with the catch of the season, that too in their debut run.
Barramundi's, Chemballi, and Vellapara were choc full in sacks for the fishermen. The Vellapara were sold in an auction on record time. Rs 440 for one kilo went straight to Matsyafed. The fishermen groups are happy but confirmed about entering the sea only after the trawling period ends.