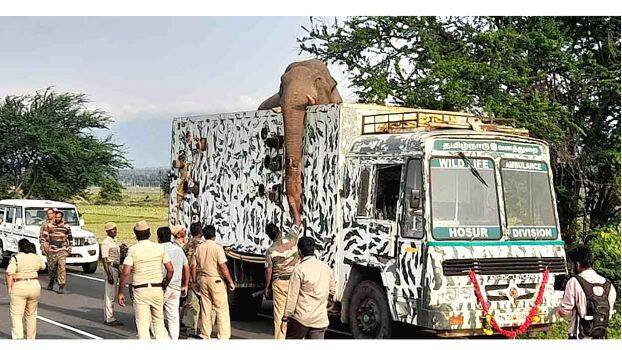 MANIMUTHARU: The rogue elephant Arikomban got darted with a tranquilizer again, this time by Tamil Nadu forest officials. The mission was activated at morning 2 am near Pooshanampatti village. After the successful attempt, Arikomban was then made to enter an elephant ambulance with the help of Kumki elephants. After 250 kilometers of travel, the giant one reached Manimutharu tiger reserve by evening. However, the release of the elephant is still stalled after a plea reached Madras HC regarding the human settlements nearby and the danger it can yield in the coming days. The case will be considered tomorrow. Meanwhile, the police arrested many locals in Kalakkad who protested again the government's move to release the giant near Manimutharu.
Late Sunday night, Arikomban reached a farm and started destroying it. The locals shocked at the sight rang forest officials who rushed to the spot. The timing and space provided near the farm were acute for the dart to be placed. Arikomban ran quite some distance before the tranquilizer took its effect. The legs were tied up after giving a booster dose and kumki elephants pushed the rogue one to step inside the elephant ambulance. Inside the vehicle, Arikomban tried a fatal plan to attack but was provided another booster dose to quell down. Through the scorching heat, the elephant traveled for nearly eight hours on the Madurai-Thirunelveli highway before reaching Manimutharu.
Unlike the fierce resistance and attacks shown in Chinnakanal, the ailing health of Arikomban dragged him to remain silent, more as a watcher of events than a participant.