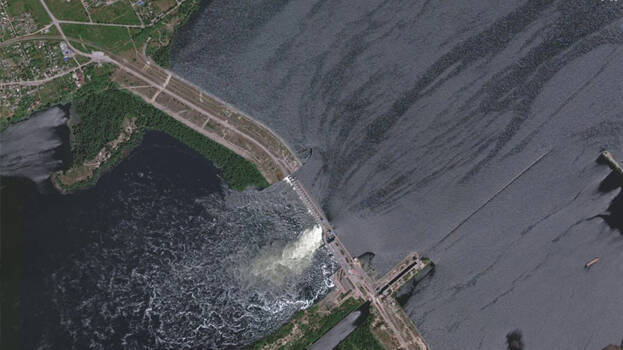 KYIV: The Nova Kakhovka dam in the Russian-controlled parts of Ukraine's Kherson region was blown up by Russian forces, the South command of Ukraine's Armed Forces said on Tuesday.
"The scale of the destruction, the speed and volumes of water, and the likely areas of inundation are being clarified," the command said on its Facebook page.
The head of Ukraine's presidential administration described it as 'ecocide' by Russian forces. However, Russia is blaming Ukraine for the incident. Videos of water gushing down through a gaping hole in the dam are circulating on social media.
The Nova Kakhovka dam supplies water to Ukraine's Crimean peninsula and the Zaporizhzhia nuclear plant, both under Russian control. The vast reservoir behind it is one of the main geographic features of southern Ukraine, 240 km (150 miles) long and up to 23 km (14 miles) wide. A swathe of countryside lies in the flood plain below.
The destruction of the dam creates a new humanitarian disaster in the centre of the war zone and transforms the front lines just as Ukraine is unleashing a long-awaited counteroffensive to drive Russian troops from its territory.
Officials informed that the water level is likely to rise in the next five hours. Preparations have begun to evacuate people as 19 villages on the west bank of the Dnipro River and a part of the city of Kherson are under threat of flooding.
Russia has controlled the dam since early in the war, although Ukrainian forces recaptured the northern side of the river last year. Both sides had long accused the other of planning to destroy it.