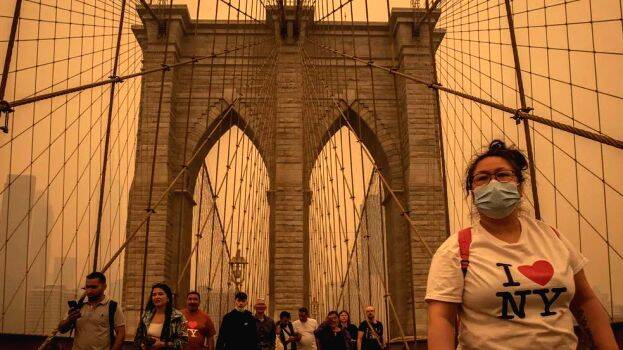 NEW YORK: Smoke from forest fires burning in 400 locations across Canada is suffocating numerous American cities. For the third day in a row, air pollution is getting worse in big cities such as New York, Washington and Philadelphia. The increasing air pollution is causing hardship to the people.
The alarming state of dangerously low air quality will continue for a week. This is the worst air pollution in the United States since 1960. Giant buildings and historical monuments, including the Statue of Liberty, were covered in thick orange smoke. Authorities advised people to wear N95 masks to avoid health problems.
Air pollution is severe in other parts of the United States as well. More than 400 wildfires have been reported in Canada. 150 of these are in the province of Quebec. The smoke from this province is spreading across America.
It is dark even in broad daylight. There are also concerns that blurred vision could lead to accidents. Some flights have been cancelled. Free mask distribution started in New York.
Smoke is expected to spread from the city to the east coast of the US. Officials said that New York City's buses and trains have high-quality air filtration systems to keep passengers safe. Animals in zoos have been moved from open spaces.
Concern over CM's program
There is a growing concern that the bad weather in New York will adversely affect the American regional conference of the Loka Kerala Sabha. Chief Minister Pinarayi Vijayan and his team left for New York yesterday to inaugurate the conference. Smoke is also creating issues at Time Square, where the Chief Minister is expected to address the expatriates tomorrow.