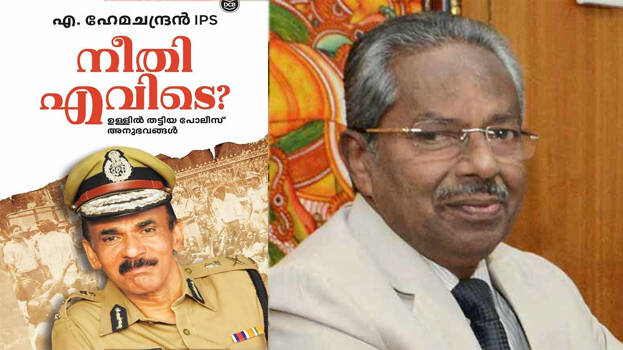 THIRUVANANTHAPURAM: Former DGP and head of the solar case investigation team A Hemachandran said that the Justice Sivarajan Commission that investigated the solar case was in the mindset of the moral police. He also alleged that the commission looked for spicy stories of male-female relationships during the investigation.
In his book 'Neethi Evide', Hemachandran alleged that the accused used to take advantage of the commission's mentality. He also said that the commission used to rely on the accused for evidence. Hemachandran has also written about important events like the Vizhinjam firing, political killings in Kannur, Mahdani's arrest and the solar case.
'The Commission appointed to investigate solar fraud and related matters was interested in 'related' issues. I already knew that the Commission's "hard work" was on this matter. Police officers appeared as witnesses. Although the subject of the investigation was financial fraud, the commission was looking to find out if there were any spicy stories of male-female relationships. We also faced the question of whether the paternity of the child of the accused had been investigated. The Commission's jokes were also offensive. I had complained about this to DGP,' Hemachandran wrote in his book.
'All the newspapers criticized the Coimbatore trip made by the lawyer of the commission and the accused in search of obscene CDs. The commission blamed the police and the media for the failure in obtaining the CD. Even then, the commission did not suspect that the fraudsters had cheated it. I felt the experiences of the Solar Commission as funny. The fraud accused became star witnesses before the commission. The commission described the accused as two educated young entrepreneurs,' he added.
Meanwhile, Hemachandran stated in the preface that the Kerala Kaumudi office was like his own whenever he had to refer to the news. He also thanked the chief editor Deepu Ravi and others.