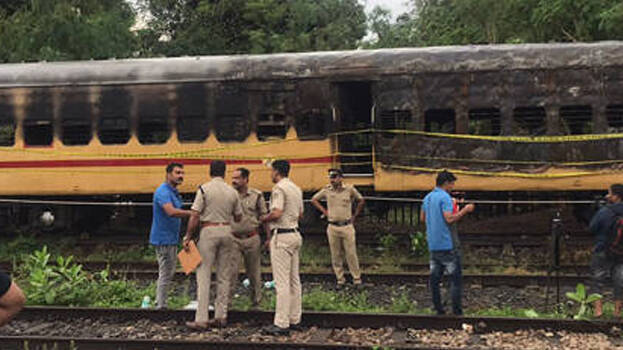 KANNUR: Prasonjit Sidgar, the accused in Kannur's Alappuzha-Kannur Executive Express train arson case, first aimed to set fire to the ladies' coach. The attempt to set fire to the 19th coach by breaking glass near the wash basin was unsuccessful. He then got inside the south door of the 17th coach. During the detailed interrogation, the accused testified that the ladies' shoes found on the ground were set on fire and placed on the seat.
However, the police did not find any remains of the shoes. After setting fire, he went to Ayikara in Kannur. After staying there for the night, he was walking to the railway station when the police caught him. The match used for lighting the fire was bought from Thalassery. The accused was brought to Thalassery on Friday and evidence was collected. Last day, evidence was also collected in the train.
The accused also stated that he reached Kannur from Thalassery by the same train. The investigation team reached Thalassery on Friday and found evidence to validate the statement. Before the incident, the investigation team collected the footage of the accused fleeing in this train from Thalassery from the railway's CCTV. It was also found that a tiffin box was in the hand of the accused at that time. The preliminary assumption of the police was that the accused reached Kannur on foot from Thalassery.