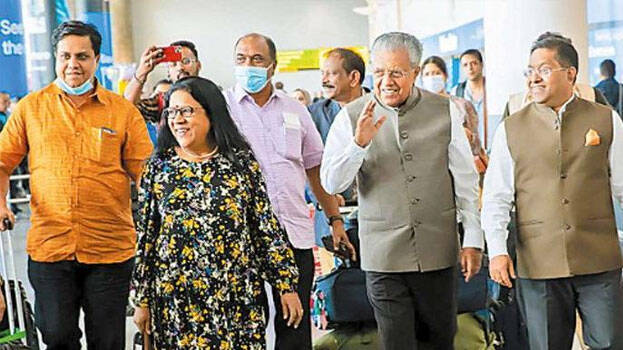 NEWYORK: Loka Kerala Sabha will have its official start today as chief minister Pinarayi Vijayan and his cavalcade of ministers have reached New York. The conference will be held in Times Square's Marriott Marquis Hotel. Today, CM Pinarayi Vijayan will inaugurate the event.
The conference will be held on the 9th,10th and 11th of this month. After the conference, the Malayali congregation will bestow a reception to CM Pinarayi Vijayan. The second day of the conference will discuss vital issues regarding the financial uplifting of Kerala and the betterment of NRIs settled in the USA. NORKA resident vice chairman P Sriramakrishnan will apprise NORKA's work and operations conducted during recent years. Dr. John Brittas will conduct a session regarding how American Malayalis can contribute more to Kerala's economic prowess.
Finance Minister K N Balagopal and Speaker A N Shamseer are accompanying the chief minister. The chief minister will visit Cuba on June 15 and 16.
Chief Secretary Dr. V P Joy, various departmental secretaries, the chief minister's wife Kamala Vijayan, and personal assistant V A Suneesh are also accompanying. The Speaker is accompanied by his wife and son. NORKA vice chairman P Sreemakrishnan and his team have already left for America. Minister Veena George will accompany the chief minister to Cuba. The chief minister and his team will return on June 19.