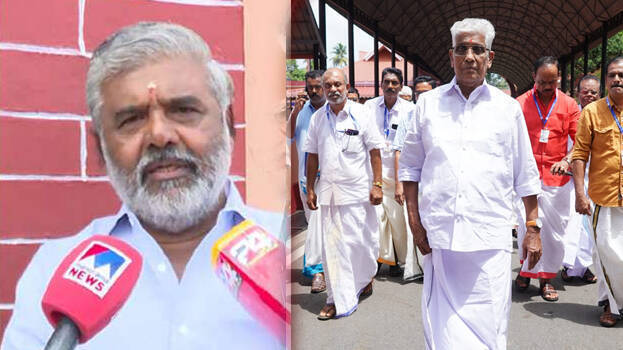 CHANGANASSERY: Six members stormed out of the House of Representatives on Friday following a rift in the Nair Service Society (NSS). Those who left the House of Representatives are Kalanjoor Madhu, Prashant P Kumar, Manepalli Mohan Kumar, Vijayakumaran Nair, Ravindran Nair, and Anil Kumar. They stormed out of the House of Representatives after the NSS leadership decided to remove Kalanjoor Madhu from the Board of Directors. Meanwhile, KB Ganesh Kumar has been included in the Board of Directors.
Kalanjoor Madhu responded that the current leadership has deviated from the stands envisioned by Mannathu Padmanabhan. Kalanjoor Madhu, who is also the brother of Finance Minister KN Balagopal, has been a member of the Board of Directors for 26 years. Meanwhile, NSS official leadership has clarified that there are no issues in the organization. The leadership also explained that the budget presentation and Board of Directors meeting are going on.
NSS general secretary K Sukumaran Nair had raised sharp criticism in the House of Representatives. Sukumaran Nair, who said that some people are trying from within to destroy the organization, added that such people will not have a place in the organization.