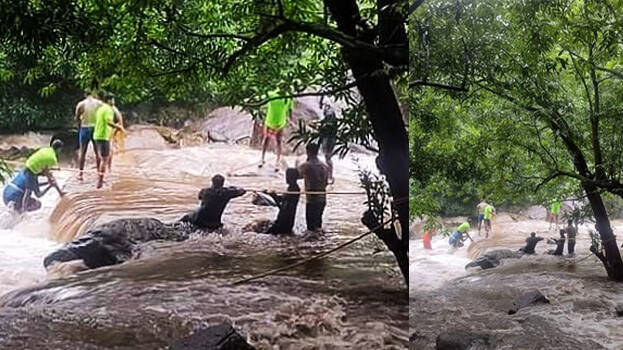 KOTTAYAM: Tourists who were trapped in Teekoy Mangalagiri Marmala stream after rainwater flowed in were rescued. Five people who were stuck on the cliff after the torrent of water rushed in were rescued and brought to the shore. The rescue operation was made possible by the joint efforts of the fire brigade and volunteers.
The water flowed in on Sunday evening, after which the tourists remained on the rock for their lives. As the current was strong, they were brought to the shore by tying a rope. At first, two people were rescued and then the rest were brought to shore through a rescue mission.

Meanwhile, a traveler carrying tourists lost control and overturned near Kallimali in Idukki last week. Tourists from Andhra were returning to Ernakulam after visiting Thekkady when they lost control near Kallimali in Rajakkad and skidded off the road. The driver was injured. Ten people were in the vehicle.