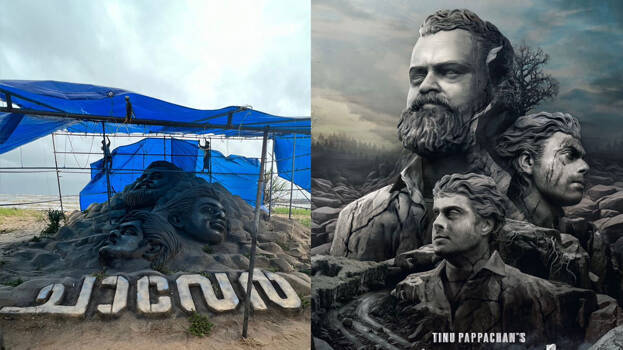 A sand sculpture has come up for the first look poster of the upcoming Malayalam film 'Chaaver' in Munambam. The first look poster of 'Chaaver' has been turned into a sculpture by Davinci Suresh, a sculptor and painter who does art installations in different mediums. The actors and crew came to see the sculpture and congratulated the artist. The poster, reminiscent of America's Mount Rushmore, has become a topic of discussion on social media. Along with this, this huge sand sculpture has doubled the excitement of the audience.
'Chaaver' is the third film of director Tinu Pappachan who is known for his action films 'Swathandrayam Ardarathriyil' and 'Ajagajantharam'. This is the first time Tinu Pappachan is teaming up with Kunchacko Boban. Kunchacko Boban plays the role of Ashokan in the film. Antony Varghese and Arjun Ashokan are also playing important roles along with Chakochan.
The movie is scripted by actor and director Joy Mathew and produced by Arun Narayan and Venu Kunnappilly. Cinematography: Jinto George, Editor: Nishad Yusuf, Music: Justin Varghese.