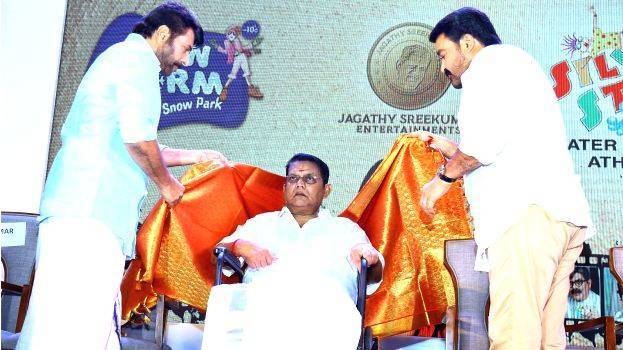 Comedy king Jagathy has always been the pride of Malaylis. In his inimitable unique acting style, this actor has made his audience laugh their heart out. His witty dialogues have also made people think about them later and laugh more.

After a near-fatal accident, Jagathy more or less lost his mobility and has been confined to his wheelchair most of the time. Sitting at his home in Thiruvananthapuram Peyad, he gives occasional interviews, receives guests and leads a sedentary life.

However. after eight years he came in front of camera to act in ad film produced by Jagathy Sreekumar entertainment company, started by his son Rajkumar long before. It was the visual ad for Silver Storm Water Theme Park at Athirappally.

"Lately, my papa also acted in Kabeerinte Divasangal, directed by his friend Sharat Chandran Nair. Soon, he will soon be acting in the fifth sequel of 'Oru CBI Diary Kurippu'. Our aim is to make him active in cinema again as the doctors advised as to do so. The doctors have told us that coming in front of the camera will better his mental and physical condition, and gradually he may return to his normal physical state," Rajkumar told in a recent exclusive interview to Kaumudy TV.

Creative director Sidhin who shot the ad film with Jagathy Sreekumar was also present for the interview. He recounted the experience of shooting Jagathy for the ad, "What amazed all of us was that when the 'take' was said, Jagathy seemed to be in his real self. The first take itself was ok…there was no need for any retake."