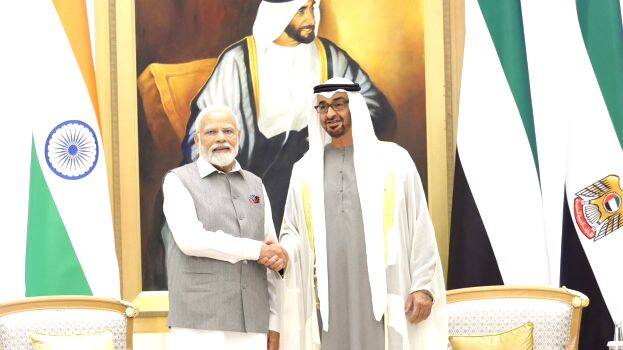 PM Narendra Modi's recent visit to UAE had more than what meets the eye. To achieve international currency status for Rupee, India tabled a Rupee-Dirham payment mechanism with UAE, to bolster the bilateral trade between the two countries. A memorandum of understanding was signed by the Reserve Bank of India and UAE's central bank.
India's UPI (Unified Payments Interface) and UAE's Instant Payment Platform(IPP) will merge together making transactions easier between people in the two countries.
The increasing circulation of the rupee in UAE along with the burgeoning Indian population was an impetus to the new merger as the two countries decided to allow exports and imports to happen in their respective domestic currencies. Among the lakhs of Indians settled in UAE, a lion's share of the population are Keralites. The new rule will be a boon for them. As of now, the Indian natives in UAE need to convert the dirham to dollars before sending the amount to families residing in India. With this MoU in place, they can send their money in respective domestic currencies and save time converting the amount to dollars. This also ensures financial profit as the conversion to the dollars used to levy a standard charge from the NRIs.
And for now, any Indian can connect and transfer money with UAE-settled relatives or friends through India's UPI. The move should be viewed as an effort to dethrone the monopoly enjoyed by dollar in the International market. In the last year alone, India had an economic engagement of Rs 2000 crore dollars with UAE. The humongous numbers are increasing with every passing year and it was the American currency dollar that was taking away a major share of the riches since it had the leverage of being the internationally accepted currency to trade with. India's current economic reforms with UAE can work as a message for other countries to follow suit. Since the Ukraine war, trading in local currencies has taken over as the new accepted normal. New Delhi and Paris recently depended on their bonhomie by signing a slew of deals. This will work for India to gain acceptance within other countries and especially Asia which New Delhi is seriously eyeing; only to topple the unrivaled supremacy China regales.
Apart from the financial deals, Delhi IIT will set up a campus in Abu Dhabi. In January 2024, the master courses will kickstart while the bachelor course will have to wait until September 2024 to begin. This will be the second Indian IIT to have its campus open in a foreign land. Madras IIT has already announced the start of its global campus in Tanzania's Zanzibar.
India's Rupay UPI will merge with UAE's switch card which will see a surge in export amidst a slowing global trade. Bilateral trade between India and UAE is expected to rise above $10,000 crore. The two countries have also decided to join hands in aggrandizing partnerships in education, health, food safety, defense, and culture.