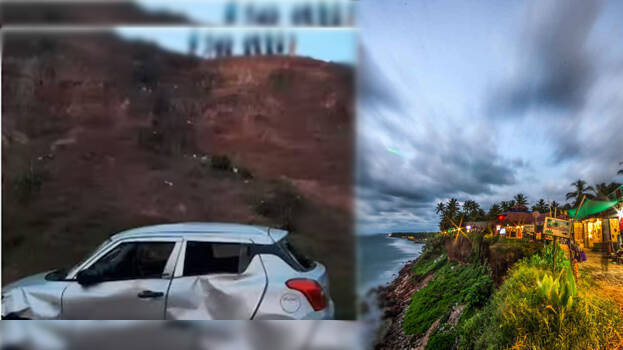 THIRUVANANTHAPURAM: Three tourists were severely injured after a car wobbled 50m down from a cliff in tourist hotspot Varkala. The incident happened at Aaliyirakkm Beach at 6:30 pm when a parked vehicle suddenly rolled all way down to crash on the shores, just few footsteps away from the beach.
Chennai natives Madhumita(20) Kunal(20) and Hajakamal(20) were inside the car during the incident and were reported seriously injured. They were first taken to a private hospital in Varkala but later got shifted to Thiruvananthapuram medical college after the doctors addressed concerns about the injuries. It is assumed that all three are students of R V College in Chennai.
The car was parked atop the cliff while the three were inside. However, in a whiff, the vehicle started moving down and did a turtle to roll down the depth; occasionally crashing at rocks to go stagnant with a final landing on the shores. In June this year, another Tamil Nadu native was injured in Varkala after their car slipped down the cliff near the helipad area. The recurring incidents are of concern and call for attention from responsible authorities.