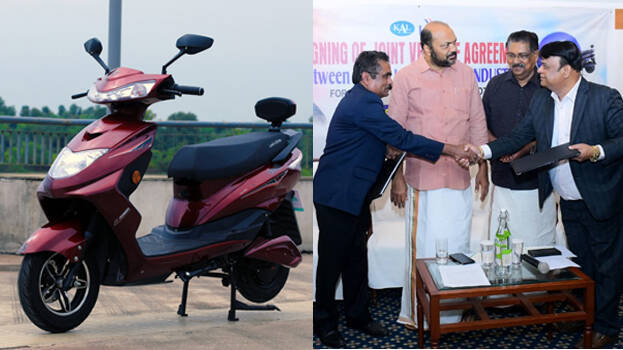 THIRUVANANTHAPURAM: The state government is entering the realm of electric scooter manufacturing under the leadership of Kerala Automobile Limited. Minister P Rajiv announced this development while inaugurating the contract signing ceremony for the upcoming electric two-wheeler manufacturing unit at Kinfra Park, Mattannur. This collaboration involves Lord's Mark Industries Private Limited, a vehicle manufacturing company based in Mumbai.
The forthcoming two-wheeler manufacturing plant will be situated on a two-acre site at Kinfra Park, Mattannur. The joint venture's authorized capital is Rs 4,64,97,000. KAL holds a 26% stake in the partnership, while the remaining portion is owned by Lord's Mark Industries. This initiative is expected to directly employ 200 individuals and create even more indirect employment opportunities. During the event, Minister Rajiv was present as P V Saseendran, Managing Director of KAL and Sunil Kargunkar, Director of Landmark Industries were awarded the contract for the project.
The Minister noted that the electric auto-rickshaws previously launched by KAL have received positive feedback. Several technical issues related to the auto-rickshaws from the initial phase have been addressed. Plans have been made to establish two service centers for electric auto-rickshaws in Wayanad and Kannur, with the Wayanad center already operational. Efforts are also underway to establish a service facility in conjunction with dealerships. Additionally, new orders for auto-rickshaws are coming in from Nepal. The Minister highlighted the strong demand for KAL autos across the country.
The ceremony, which took place at Mascot Hotel in Thiruvananthapuram, saw the participation of K Ansalan M L A, Chairman of KAL Pulluvila Stanley, Chairman of the Public Sector Restructuring and Internal Audit Board Dr R Ashok, Lord's Industries Director Vinod Tiwari and other dignitaries.