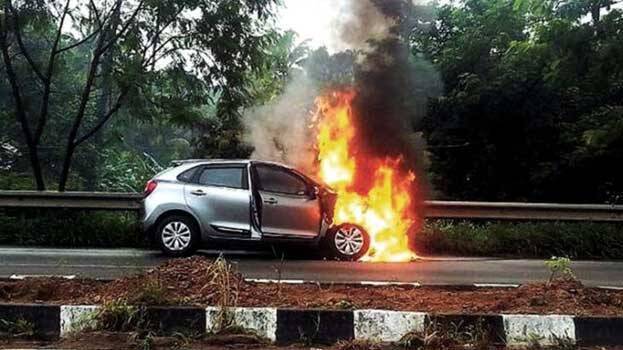 KANNUR: The experts said that with the breeding season of beetles causing fuel leaks in vehicles, it is time for the vehicle owners to be cautious. These beetles breed when the rains leave and sun shines. Koyyodan Pavithran, who runs an automobile workshop at Karivellur in Anoor, said that in previous years, these small beetles drilled into the petrol pipes and leaked the fuel in many vehicles at this time.

It has also been mentioned in the report submitted to the center by the department of motor vehicles that this beetle turns villain in the case of vehicles catching fire. The danger posed by the borer beetle is greater than the danger caused by short circuits. This was confirmed when Pavithran found the hole in the pipe, caught the beetles and handed them over to Dr K M Sreekumar, entomologist of Padannakkad Agricultural College for examination. Three to four such cases of fuel leakage used to arrive at Pavithran's workshop during the months of August-September. Pavithran said that if automobile manufacturers don't take steps to prevent the problem, cars will catch fire and become more dangerous.
Nests mutilatus
The beetles, scientifically known as Nestus mutilates are attracted to ethanol in petrol. It will drill the fuel pump made of rubber to drink it and thereby causes leakage and fire. Accidents are mostly in petrol vehicles. These beetles have thick mouthparts. These beetles can drill into wood, hardwood, rubber and even some metals.
Rs 3000 needed to change pipe
This pipe is different for each vehicle. If some vehicles have a single pipe, the others need up to six pieces of pipes. At least Rs 3000 is needed to change the pipe. In addition to this is the cost of transporting the vehicle stopped on the road to the workshops with the help of a recovery vehicle.

Even though the vehicle does not leak when it is stopped, it is possible that a lot of petrol can leak through this small hole when running. As the heat rises, the leakage in the petrol pipes can cause the vehicle to catch fire. Pavithran said that apart from the fire, there is a high possibility that the car runs out of petrol and stops on the road.