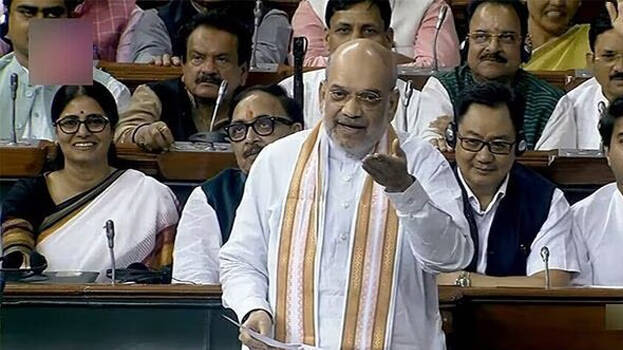 NEW DELHI: Congress has issued a notice of rights violation against Union Home Minister Amit Shah, alleging that he misled the Parliament. Manickam Tagore, the Congress's Lok Sabha whip has submitted a notice of rights infringement to the Speaker regarding Amit Shah's remarks about former Congress president Rahul Gandhi assisting a woman named Kalavathi Bandhurkar.
The opposition has accused Amit Shah of falsehood in the Parliament. The notice is based on Amit Shah's speech in the Lok Sabha on Wednesday. Amit Shah had mentioned Rahul Gandhi's visit to the widow Kalavathi in his speech. Kalavathi's husband, a resident of Vidarbha in Maharashtra committed suicide due to the agricultural crisis. Amit Shah had then stated that although the Congress MP had visited Kalavathi, it was the Modi government that provided her with assistance including a house. However, the Congress claims that Amit Shah furnished the House with inaccurate information.
The Congress had raised the issue including a video shared on social media in which Kalavathi stated that Rahul Gandhi had helped her. In the notice, the Congress alleges that Amit Shah has violated rights by failing to truthfully present information about Kalavathi.