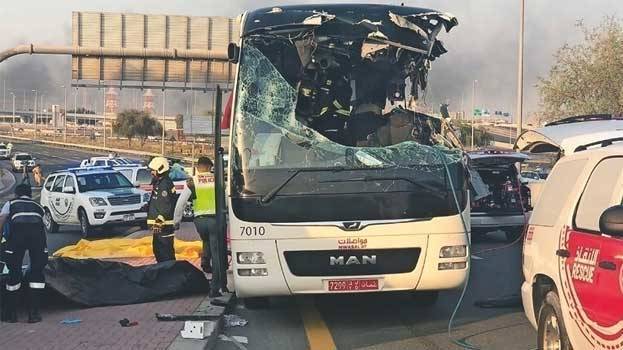 DUBAI: The UAE court had ordered to give a compensation of Dh 200,000 (Rs 37 lakh) to the kin of those killed in the Dubai bus accident during Ramzan time. The Omani bus driver, who crashed into a road barrier in Dubai, was sentenced to seven years in jail by the court after he was found guilty. He will be deported after serving the sentence. He was asked to pay a fine of Rs Dh 50,000. His driving license has been cancelled for a year. The 53-year-old Omani driver was charged of causing the wrongful death of 17 passengers and injuring 13 others.
The Muscat-to-Dubai Mwasalat bus service struck an overhead height barrier at 94 km/h on June 6 at the turn off from Mohammad Bin Zayed Road leading onto Rashidiya Road, where it was due to make a scheduled stop at Rashidiya Metro. The driver took a wrong turn left not designated for buses which led to the height restriction, instead of going right.
Prosecutor Salah Bu Farousha Al Felasi, director of Traffic Prosecution, said earlier that the driver could not follow the signboards as the sun shade had obstructed his view.
He admitted to lowering the sun shade and didn't notice the signboards or warning signs, despite having used the road several times before the accident, said Al Felasi. His reckless driving, not paying attention to the road, and his speeding, caused the disaster, he said.