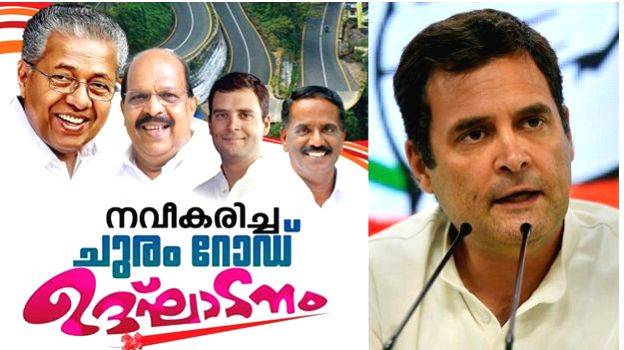 KOZHIKODE: In the midst of the ongoing controversy regarding the flex at the renovation program of Agasthyanmoozhi-Kunnamangalam road, Rahul Gandhi has come up with a response. Rahul Gandhi was named as the chief guest of this function, but without his consent which sparked the controversy. Gandhi's response was rather warm. In a letter sent to George M. Thomas MLA, Rahul expressed his gratitude for inviting. He also congratulated the state govt in completing the project.
This letter has come out at a time when the Congress leaders had alleged that Rahul was not invited, thereby insulting him.
The flex featured the pics of Wayanad MP Rahul Gandhi along CM Pinarayi Vijayan and the inaugurator G. Sudhakaran, which initiated the controversy. Rahul said that he was invited by the MLA and PWD engineer.
In the letter, Rahul expressed his happiness for being invited but said he cannot make it due to an unexpected exigency. He said that as the MP of Wayanad he will support the development of an ecologically sustainable alternate route for decongesting Wayanad Ghat Road. Rahul added that he is happy with the gradual progression of the project. He also congratulated the govt and officials of various departments on the completion of the project.