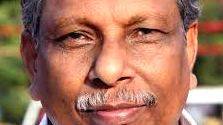 THIRUVANANTHAPURAM: Despite the fact that just 20 months are left for the Pinarayi government in Kerala, Minister for Local Self-government A C Moideen is going to be given a new office in Secretariat Annexe' fifth floor.

This is going to be done, spending lakhs of rupees, even when the government says it has no sufficient money for rebuilding flood-ravaged Kerala.
Currently, Moideen's office is located in the Secretariat North block, just opposite to the chief minister's office. Now, his office is being shifted so that the entire block can function as the chief minister's office.

Amid paucity of funds, the decision is to shell out Rs 40.47 lakh for the renovation of the office. The Public Works department will oversee the renovation work and the contract for the work has been given to Ooralunkal Labour Contract Cooperative Society. The Public Administration on Thursday issued the order, allotting Rs 12,50,000 for electric works, and Rs 27,97,000 for other civil works.