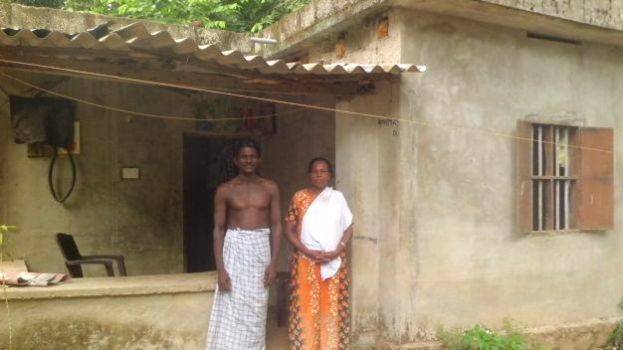 ARANMULA: For CPM loyalist and Aranmula Ezhikkadu colony Block 78 resident Raghunathan , the visit of Congress leader Rahul Gandhi to his flood-ravaged house has apparently backfired. When the water receded, the mud below the basement of his house caved in, causing the building to tilt a bit. Cracks also appeared on the walls.

Though he gave application for financial aid to the CPM-ruled Panchayat and district collector three times, some time ago, he didn't get any help. The only mistake he did for this 'punishment', according to him, was that Rahul Gandhi visited his house on August 28, during his visits to flood-affected regions in Kerala. After that, CPM workers started spreading the rumours that he had joined the Congress party.

Ironically, it was Ragunathan who took out his boat and rescued hundreds of people during the floods which had inundated most part of Ezhikkadu colony.

Actually, he had not invited Rahul but Rahul ran into his house and hugged him after hearing about his adventurous rescue acts from Congress workers.

Sitting inside his dilapidated house with his wife Renuka and children Sasikala and Rahul, Raghunathan asks: How can I tell Rahul Gandhi not to enter my house when he comes here?

Meanwhile, Panchayat president Aisha Purushothaman said, "flood relief money is being distributed in Aranmula but Raghunathan's application has not come to our notice".