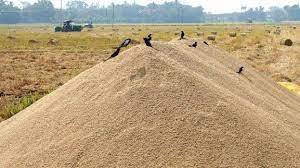 ALLEPPEY: Even though the governments have changed multiple times, farmers are still struggling with their income. For more than two decades farmers have been getting only 12 rupees per quintal while the mills that bring paddy from Kuttanad to godown by lorry for threshing get 220 rupees per quintal as handling charges.
The government considers the handling cost of the farmers to be the cost of harvesting, threshing, bagging and transporting the paddy that survives natural calamities. The handling cost was fixed at Rs 12 per quintal in 2002 when rice mills were procuring paddy through cooperative societies. Later, Supplyco took over the procurement of paddy but did not increase the handling cost.
Costs 270 rupees
Even though the wages for bagging paddy from the field, carrying it to the boat, bringing it to the road and loading it into the lorry have increased several times over the past two decades, the handling charge has not been increased. The current actual cost is 22 times the government rate. The handling charge is Rs 270 per quintal of paddy.
Handling Cost (in Rs. per quintal)
Wage: 40
Loading charges: 145
Boat Fare: 45
For loading from boat to lorry - 40
Total-270 Rs
Insurance fraud as well
The central and state governments have declared crop insurance to provide relief to the farmers for crop damage due to drought and pest infestation. They receive premiums from farmers every year but do not distribute the compensation. The farmers did not get even a single rupee despite the crop damage during the floods in last monsoon. The drawback is that according to the rules of the insurance companies, compensation cannot be calculated on a farm basis or Krishi Bhavan and Panchayat basis.
Two insurances
Pradhan Mantri Fasal Bima Yojana (PMFBY) (Coverage Rs. 30000 to Rs. 85000 per hectare) Annual Premium Rs 640
State Agriculture Department's Crop Insurance (Coverage up to Rs. 35000 per hectare) Annual Premium Rs 100
"It is a fact that there is no intervention of the people's representatives or the government to increase the cost of handling from time to time or to change the laws to ensure insurance coverage. The inability of the indebted farmer to protest or go to court also led to an increase in such exploitations.'
- Sonichan Pulikkal, Paddy Farmers Protection Committee