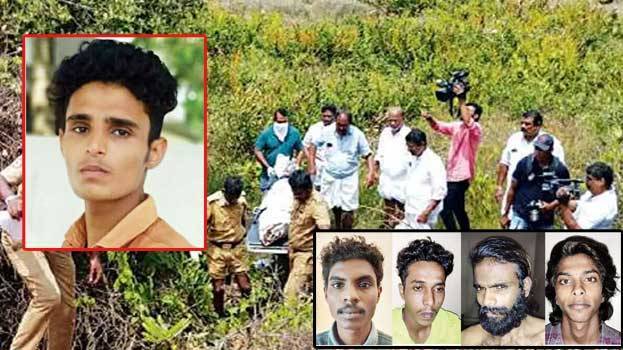 KOCHI: The brutality behind the murder of Kumbalam native Arjun (20) is shocking. The accused, who were prepared to murder Arjun reached the place hours before the crime. Then they indulged in their usual activity-ganja smoking. Later they send the youngest one in the group to call Arjun. Arjun had smoked ganja with the accused several times before, so he didn't had any sort of suspicions. He then smoked ganja with the accused. After reaching a state of delirium, the accused started beating Arjun. The beating continued for hours. They dragged the unconscious Arjun to a swamp. The beating resumed and went on till he died.
For covering up the crime, they dropped the body in the swamp. Concrete slabs were placed above the body to avoid floating. When the body was found, the abdomen area had decayed out and the bones were visible. The police suspect that the abdomen could've been slit to avoid the body from floating to the surface. The skull was also suffered deep injury. Talking to Keralakaumudi Flash, Panangad SI said that the accused will be brought into custody. The cause of death will be known only after the forensic report comes out. The accused Nibin Peter (20), Rony (23), Ananthu (21) and Ajithkumar (22) has been remanded by the court.
Arjun's body was cremated on Thursday evening after forensic tests.
The murder was committed on the belief that Arjun was responsible for the death of Nibin's brother, police said.
Arjun was murdered on July 2 around 10.30 pm. Imitating a scene in the movie 'Drishyam', Arjun's phone was thrown into a lorry.
Meanwhile, Congress lead a protest to Panangad Police Station alleging that the police committed lapse In investigation.