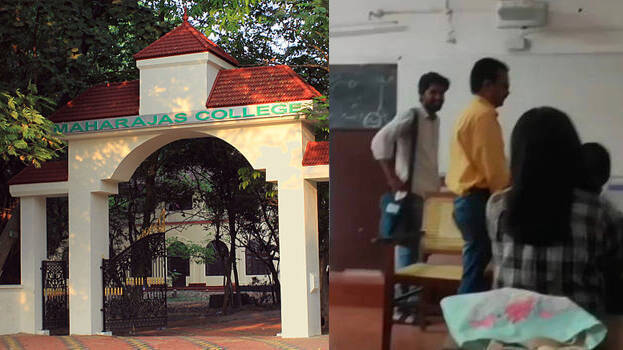 KOCHI: The students of Maharajas College have issued apologies following the incident involving the disrespectful treatment of a visually impaired teacher, Dr Priyesh. All six students involved have expressed their regrets to Dr Priyesh. Both the students and their parents have assured that such a mistake will not be repeated. The students made their apologies in accordance with the decision of the college council which has also chosen not to pursue further action in this matter.
Dr Priyesh, a BA Political Science teacher had been subjected to insult by the students including a leader from the KSU. An earlier video had emerged showing students engaging in disrespectful behaviour such as being engaged in their phones, moving their chairs and mocking the teacher.
After the video gained attention and became controversial, the college took action by suspending six students including the KSU leader, Fazil. Subsequently, a three-member committee was appointed to investigate the incident and submit a comprehensive report. The college management had initially filed a complaint with the Central Police requesting that a case be filed under the Rights of Persons with Disabilities Act against the students responsible for insulting the teacher. However, Dr Priyesh clarified that no such complaint had been filed against the students leading to the case not being pursued.
Previously, KSU had stated its reluctance to accept the College Governing Council's proposal for a public apology in connection with the incident. Muhammad Fazil, who also serves as the unit vice president of the organization asserted that the teacher who filed the complaint had not been intentionally insulted. The organization had earlier emphasized that an apology was unnecessary unless a clear mistake had been made.