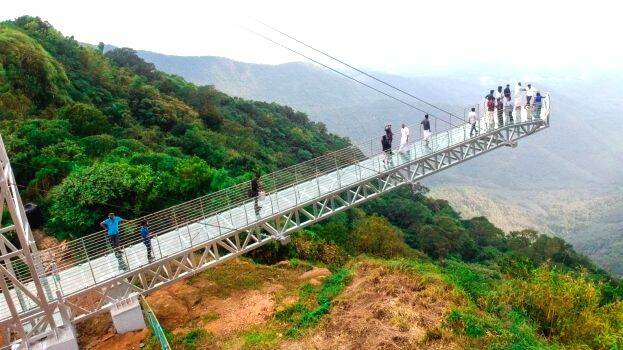 VAGAMON: On the first day of its opening here, 100 people climbed India's longest cantilever glass bridge in two hours between 9 and 11 am. On the first day, total income was around Rs 50, 000. Due to heavy rain at 11 o'clock, the authorities stopped the access to the bridge. This is because there is a possibility of slipping in the rain. Climbing the bridge with an umbrella can also cause problems.
DTPC officials said that there was a long queue of tourists to board the glass bridge since yesterday morning. Considering the crowd at the ticket counter, issuing tickets online is also being considered by the authorities.
15 people can enter at a time. 5-10 minutes can be spent on the bridge. Distant views of Mundakayam, Kookukal and Kokkayar regions can be seen from the bridge. The entry fee is Rs 500.
The glass bridge has been set up at DTPC's Adventure Park in Kolhalamedu, four kilometers away from Vagamon. There are many adventure activities like Rocket Ejector, Giant Swing, Zip Line, Sky Cycling, Sky Roller, Free Fall, Human Gyro etc.