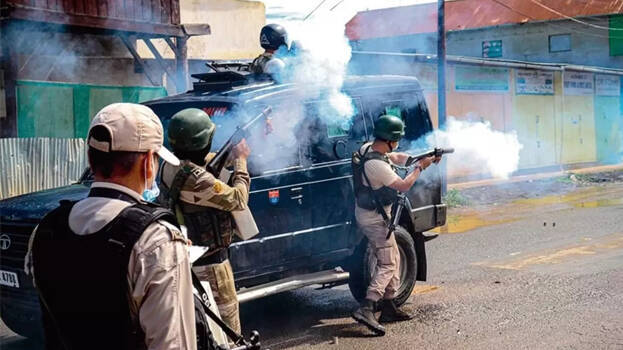 IMPHAL: Conflict has once again erupted in Manipur with unsettling incidents occurring in Thengnaupal and Kakching districts. A protest march organized by the Meiti sect escalated into violence resulting in two fatalities and more than 50 people sustaining injuries. The region has been on edge for the past few days, with both Meiti and Kuki factions pointing fingers at each other for the unrest. A gunfire was reported in Naranzina, a part of Meirang yesterday.
In response to escalating tensions and protests against security forces that have turned violent, a curfew was imposed across five districts. The Meiti faction had previously staged aggressive protests demanding the withdrawal of security forces and the removal of barricades. The protest, spearheaded by Kokomi, a Meiti organization's women's association spiralled into violence.
As a precautionary measure, officials have declared a curfew starting from Tuesday. This curfew affects the districts of Imphal West, Imphal East, Bishnupur, Kakching and Thoubal with the curfew hours set from 5 am to 5 pm.